AusHSI-JTI Trauma Week
By Kirsten Vallmuur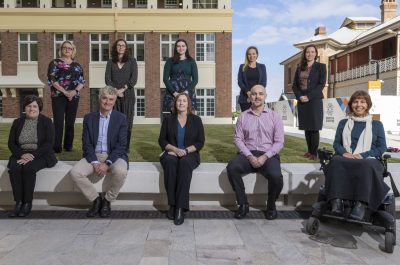 The impact of sustaining an injury on an individual, their family, friends and workplaces, can be life altering.  While the risk of injury exists everywhere in our daily activities, whether in our homes or workplaces, or commuting on our roads, it is human nature to believe it won't happen to us or our loved ones.  When the unimaginable happens, we want to know that there is a comprehensive, integrated, world-class trauma system ready to respond. The goal is to get patients to the most appropriate service, in the most efficient time, to receive the best available care and ensure rapid return to a desirable quality of life.
Held during the week of 21 November 2022, Trauma Week was an opportunity to celebrate the research partnership between AusHSI and the Jamieson Trauma Institute (JTI), a collaboration that harnesses the expertise of one of Australia's leading health services research centres with Australia's newest clinical-academic trauma institute to build new research and clinical capability in trauma systems.
Improving service delivery is a time-critical, complex clinical challenge that requires integrated data and interdisciplinary approaches. From pre-hospital and emergency to acute care and rehabilitation, learn how our Trauma and Injury research program is transforming trauma care and prevention initiatives across the trauma care patient continuum in Queensland.
Our short film The Future of Trauma Data highlights our vision of the future opportunities for trauma management and prevention, with data being a critical building block of an evidence-based streamlined efficient trauma system.  Get a glimpse into the enormous potential for trauma systems in the era of digital health, both now and in the future.
Data Quality & Analytics
Queensland's vast geography makes transporting an injured person to the right place for the right care at the right time very complex. The injury Treatment and Rehabilitation Accessibility Queensland Index (iTRAQI) is a new tool that enables emergency care providers and planners to identify time and distance complexities when transporting traumatic brain injury patients from remote areas to specialised neurosurgical care and rehabilitation services.
Our machine classifier tool assists in rapid coding of injury surveillance data from emergency departments and demonstrates the significant potential of machine learning in delivering near real-time injury surveillance for emerging hazards or pandemics, such as COVID-19.
Linking routinely collected health data is vital to understanding injured patient outcomes. Our incredible AusHSI-JTI PhD candidates are investigating how to better use health data to improve long-term outcomes for those experiencing trauma. Learn what drove Jacelle, Adam and Sam to undertake research in this area and the integral role of their research projects in the evolution of trauma management in Queensland.
Quality of Care and Processes
In conjunction with the Royal Brisbane and Women's Hospital Trauma Service, our team is working to evaluate the impact that their new trauma admitting service model of care has on patient care, assessing variations in patient outcomes and treatment costs post-implementation.
Injury Prevention
A topic that touches every household, safety and injury risks associated with widely used consumer products are the focus of a program of work which our team has been engaged in for over ten years. Strong collaborative approaches have enabled us to advance product safety and inform policy development.
We encourage you to follow #aushsitrauma on Twitter and LinkedIn, reach out to the Trauma and Injury Research Program Team, and stay involved in our work as we strive to create value-based, evidence-informed systems and technological innovations to reduce the multifaceted impact of trauma in our community.
Sign up to the AusHSI eNews to find out more.
IMAGE (TOP L-R): Prof Cate Cameron, Jacelle Warren, Sam Borg, Prof Kirsten Vallmuur, Dr Victoria McCreanor.
(BOTTOM L-R): A/Prof Angela Watson, Prof Michael Schuetz, Dr Catherine Niven, Adam Rolley, Dr Susanna Cramb