Researching Approaches to Cleaning in Hospitals (REACH)
Synopsis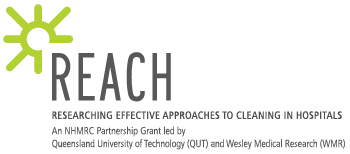 Why the research project is important
Healthcare associated infections (HAI) are a major cause of avoidable costs, morbidity and deaths among hospital patients. Reducing important HAI requires multiple evidence-based approaches, including a focus on environmental cleaning. It is important to understand the impact of cleaning interventions on HAI rates and their cost-effectiveness.
What the research seeks to do
The REACH study aimed to evaluate whether a new, bundle approach to hospital cleaning was an effective and cost-effective way to reduce the transmission of healthcare associated infections (HAIs) in hospitals.
What are the research outcomes/ impact
The REACH trial implemented an evidence-based cleaning bundle in 11 Australian hospitals. The intervention was associated with improved cleaning of frequent touch points and lower rates of Staphylococcus aureus bacteria (SAB) and vancomycin-resistant enterococci (VRE) infection. Adopting the bundle had an 86% chance of being cost-effective, compared with existing hospital practices.
This study generated evidence for the cost-effectiveness of the REACH cleaning bundle as an infection prevention strategy in hospitals.
Funding Body
A National Health and Medical Research Council (NHMRC) Partnership Project (GNT1076006).
Further Details
For information on resources and publications, please contact Alison Farrington at contact@aushsi.org.au