Sumudu Hewage awarded QCVRN Scholarship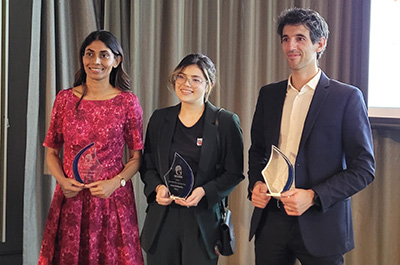 AusHSI PhD Scholar Sumudu Hewage has been awarded a prestigious Queensland Cardiovascular Research Network (QCVRN) scholarship.
Announced on Thursday 14 July, Sumudu was presented with her award at a QCVRN event showcasing the significant growth and impact of Queensland cardiovascular research being conducted across the network. QCVRN announced three scholarships across biomedical, clinical and health services research areas.
Sumudu was awarded a top-up scholarship of $5000 per year for two years to support completion of her PhD entitled Evaluating the Cost-Effectiveness of an Integrated Care Model for Prevention of Stroke Associated with Atrial Fibrillation.
Aimed at early and mid-career researchers to help implement 2022 QCVRN programs, the QCVRN scheme aims to build leadership skills for career development, and facilitate engagement and capacity building across the network.
QCVRN is a collaborative platform for advancing cardiovascular research and supporting cardiovascular researchers  in Queensland. It provides a framework that helps cardiovascular researchers connect with each other and develop broader awareness of research activities happening across Queensland.
Media contact
Sian Conway Lamb, 07 3138 6087, sian.conwaylamb@qut.edu.au