Dr Susanna Cramb named one of Queensland's 2020 Young Tall Poppies
QUT is celebrating the announcement of two Queensland Young Tall Poppies, including Dr Susanna Cramb, Strategic Research Fellow at AusHSI.
Dr Susanna Cramb, an epidemiologist and biostatistician, and leads a team of researchers called HERO: Health Equity Research with Outcomes that uses statistics to identify and understand health inequities so they can be addressed.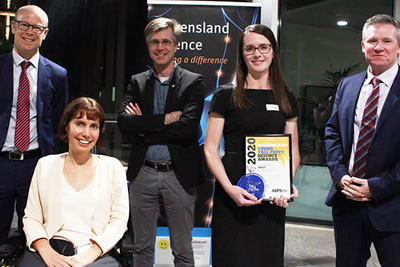 Her research involves using complex modelling techniques to investigate the spatial and spatio-temporal patterns of chronic disease in Queensland and across Australia.
As part of investigating health inequities, Dr Cramb has mapped cancer diagnoses and survival across Australia and was a lead developer of the online Australian Cancer Atlas, underpinned by her statistical methods.
"My research focuses mainly on chronic diseases such as cancer and diabetes, examining where cases are occurring, and why outcomes differ," Dr Cramb said.
"A lot of data is collected on chronic diseases in Australia and my research transforms this data into useful knowledge."
"Even if data are routinely collected on all cases, such as for cancer, once we start to investigate patterns in small areas, such as one suburb, then the small numbers cause the data to become unstable.
"We are unable to see the pattern the data is trying to tell us unless we use special modelling techniques to reveal what has been there all along. I have developed new models, methods and contributed to novel data visualisations to help identify where there are inequities."
Dr Cramb's research has particular importance for policymakers.
"Maps can focus policymakers' attention. In Queensland, government acted on my research by developing policies to reduce inequities and increase funding, for example, to rural residents who needed to travel for medical treatment."
Dr Cramb's models and the visualisations to which she has contributed have generated international interest, resulting in collaborations with New Zealand Ministry of Health and researchers in Sweden.
QUT Media contacts:
Niki Widdowson, 07 3138 2999 or n.widdowson@qut.edu.au
After hours: Rose Trapnell, 0407 585 901 or media@qut.edu.au.