Developing Integrated Care Models to Manage Atrial Fibrillation
By Associate Professor Sanjeewa Kularatna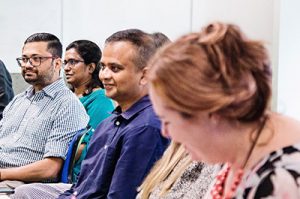 Atrial fibrillation (AF) is the most common disorder of cardiac rhythm. AF results from complex interactions between risk factors and symptoms that reduce quality of life and increase the risk of stroke and heart failure. The prevalence of AF in the population is growing and increasing the demand for health services. Clinical practice guidelines recommend an integrated approach to caring for patients with AF, but this is loosely defined and sparsely implemented.
This AusHSI-led research program uses qualitative and quantitative methods to support the implementation of integrated care models for patients with AF in Australia. We are engaging with stakeholders to better understand existing practices, map inequities in care and quantify the current cost of hospital care for AF using linked health service data.
Working with stakeholders, we will use this core information to co-design a framework for integrated care relevant to Australian contexts. Outcomes will further inform a series of discrete choice experiments (DCEs) with patients, clinicians/policymakers and the general public. Planned DCEs will aim to quantify preferences for different characteristics of proposed integrated care models such as the choice between telehealth or in-person consultation.
We will develop simulation models to estimate the impact of implementing proposed integrated care plans into hospitalisation, quality of life and health service costs. These models will provide a full economic evaluation of integrated care models to assess value for money for policymakers.
Funding
Centre for Healthcare Transformation has provided seed funding for this program, and we are actively seeking collaborators and applying for funding.
Current work
We have set up a collaborative team with AusHSI health service researchers, clinicians including cardiologists and Electrophysiologists, clinician researchers from the University of Queensland, and other stakeholders.
HDR students
AusHSI HDR students are working on related projects including cost effectiveness of AF screening and patient preference for an integrated model of care to prevent AF associated stroke.