MTPConnect announces Round 2 funding to accelerate transformative Australian diabetes and cardiovascular disease innovations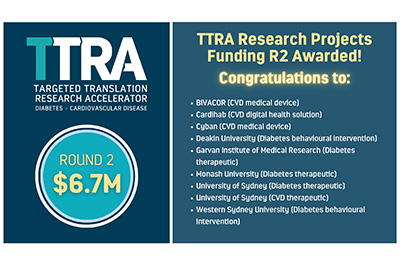 MTPConnect and the Minister for Health and Aged Care, The Hon. Mark Butler MP, have announced $6.7 million funding for nine diabetes and cardiovascular disease research projects through the Targeted Translation Research Accelerator (TTRA) program.
The TTRA program, a Medical Research Future Fund initiative delivered by MTPConnect, is supporting new approaches to improve the prevention, diagnosis, treatment and management of diabetes, cardiovascular disease and their related complications.
These new projects have attracted $8.6 million in additional contributions from the awardees and their partners – injecting a total of $15.3 million into the sector to tackle some of the leading causes of death and disability in Australia.
This second round of funding through the TTRA program provides another substantial and targeted boost for the translation, commercialisation and implementation of Australian diabetes and cardiovascular disease innovations.
As a TTRA program partner, the Australian Centre for Health Services Innovation (AusHSI) will continue to provide mentoring and implementation advice to grant recipients within the behavioural interventions modality focused on diabetes and cardiovascular disease (CVD).
Nine highly promising research projects from NSW, Queensland and Victoria have been funded this round under the TTRA program, with projects addressing atherosclerosis, cerebrovascular disease, cardiomyopathy and heart failure, as well as mental health and glucose control for those living with diabetes.
Specific behavioural intervention modality projects supported by AusHSI will include Deakin University's online education program to reduce hypoglycaemia-related anxiety and improve mental health outcomes in adults with type 1 diabetes, and Western Sydney University's clinically validated Care Portal empowering young Australians to live well with diabetes.
AusHSI Operations Director, Megan Campbell, said AusHSI is very much looking forward to supporting these exciting new projects from Deakin and WSU.
"We pass on our congratulations to the researchers for their hard work to date. AusHSI has a strong track record in using implementation science to support translation of research into improved health services for patients, and we are excited to see the impact these projects will have on the health, and in particular mental health, outcomes for people with Diabetes," Ms Campbell said.
TTRA Research Projects Round 2 Funding Awarded to:
BiVACOR Pty Ltd, QLD, $750,000 award to develop a new, more portable external controller to allow long-term use with its BiVACOR total artificial heart
Cardihab Pty Ltd, QLD, $740,153 award to advance its platform and patient-centric smart phone-based app, providing personalised healthcare delivery to improve heart failure outcomes
Cyban Pty Ltd, VIC, $700,000 award to apply its innovative brain pulse oximeter technology, as a point of care monitor for earlier detection and treatment of stroke in a hospital setting to prevent long term disability and death
Deakin University, VIC, $749,764 award to trial an online education program for prevention, awareness of symptoms, and treatment to reduce hypoglycaemia-related anxiety and improve mental health outcomes in adults with type 1 diabetes
Garvan Institute of Medical Research, NSW, $749,979 award to conduct a first-in-human safety and efficacy trial using genetically engineered islet cells to restore glucose in type 1 diabetes
Monash University, VIC, $750,000 award to develop a novel adjunctive peptide therapy to lower insulin doses for improved glucose control in the treatment of type 1 diabetes
University of Sydney, NSW, $750,000 award to bring oral insulin to phase I clinical studies using a novel quantum dot drug delivery platform
University of Sydney, NSW, $749,536 award to progress novel small molecule therapeutics targeting the inflammatory contribution to atherosclerosis, stabilising plaque and preventing heart attack
Western Sydney University, NSW, $744,873 award to trial a clinically validated Care Portal providing access to peer support, mental health support and clinical care, empowering young Australians to live well with diabetes
Read the MTPConnect news story.
Media contact
Sian Conway Lamb, 07 3138 6087, sian.conwaylamb@qut.edu.au