New tool tackles time and distance factors in emergency brain injury care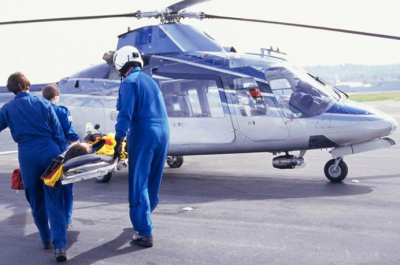 A new tool developed by researchers at the Australian Centre for Health Services Innovation (AusHSI) and the Jamieson Trauma Institute (JTI) enables emergency care providers and planners to identify time and distance complexities when transporting traumatic brain injury patients from remote areas to specialised neurosurgical care and rehabilitation services.
The tool, iTRAQI, was presented at the Australasian Trauma Society Conference
Queensland's geography makes emergency care for traumatic brain injury in remote areas complex
iTRAQi shows health planners where gaps in specialised care exist
Tool can be used for other emergency trauma cases such as spinal injury
The tool, titled iTRAQI (injury Treatment & Rehabilitation Accessibility Queensland Index) was launched in a presentation to key stakeholders before being presented at the Australasian Trauma Society Conference this Saturday.
Biostatistician Jacelle Warren, from QUT's School of Public Health and Social Work and JTI, said Queensland's large distances made designing healthcare systems challenging.
"Queensland's vast geography makes transporting an injured person to the right place for the right care at the right time very complex," Ms Warren said.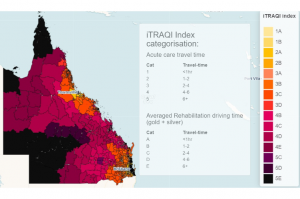 "Our trauma system requires ambulances, helicopters, and planes to make sure people injured in rural and remote areas can receive the right care quickly.
"If you suffer a traumatic brain injury and you live near Townsville, for example, your access to appropriate acute care is high because Townsville University Hospital has a neurosurgical unit.
"But if, for example, you live near Goondiwindi your access to the nearest neurosurgeon is more complex, as you need to be flown to Princess Alexandra Hospital.
"iTRAQI gives planners information on which Queensland locations are the most complex for transporting a person suffering a potential life-threatening brain injury to the most appropriate hospital for acute care and rehabilitation.
Ms Warren said iTRAQI also demonstrated where gaps in accessible, specialised time-critical care from remote places in Queensland were found.
"Queensland's only hospital designated for both neurosurgery and specialised brain injury rehabilitation is Princess Alexandra Hospital," Ms Warren said.
"The RBWH, Gold Coast University Hospital and Townsville have acute care and offer general rehabilitation services currently though they don't have a specialised brain injury rehabilitation unit.
Dr Susanna Cramb, a biostatistician and epidemiologist also from QUT and JTI, and lead author of the associated iTRAQI technical report, said iTRAQI is a brain injury-specific tool currently but which could be modified for different types of traumatic injury.
"The tool could be modified and specified for other serious injury types such as spinal cord injuries, burns and complex orthopaedic trauma," Dr Cramb said.
This research is supported by a team from JTI, QUT, Queensland Ambulance Service and Retrieval Services Queensland, and by funding from the ARC Centre of Excellence for Mathematical & Statistical Frontiers, the QUT Centre for Data Science and the Emergency Medicine Foundation. The tool can be accessed at this link: https://access.healthequity.link
Media contacts
Sian Conway Lamb, 07 3138 6087, sian.conwaylamb@qut.edu.au
Niki Widdowson, 07 3138 2999, n.widdowson@qut.edu.au
After hours: 0407 585 901, media@qut.edu.au