Professors Anne Chang AM and Adrian Barnett join Principal Committees of the NHMRC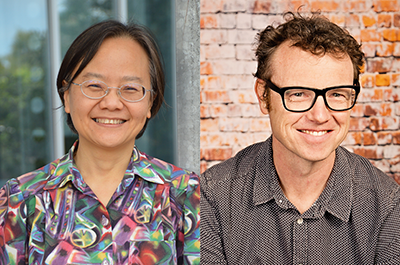 Two leading Australian Centre for Health Services Innovation (AusHSI) academics, Professor Anne Chang AM and Professor Adrian Barnett, have been announced by Australia's Minister for Health and Aged Care, the Hon. Greg Hunt MP, as members of the new Principal Committees of the National Health and Medical Research Council (NHMRC) for 2021 to 2024.
Professor Anne Chang AM, AusHSI Program Lead: Cough and Airways Research, joins the NHMRC Health Research Impact Committee. This newly formed committee will play a key role in advising NHMRC on strategies to promote and measure the impact of health research. The fields of health research funded by NHMRC are broad and include basic science, public health, clinical and health services and research to improve the health of Aboriginal and Torres Strait Islander peoples.
Professor Adrian Barnett, Lead for AusHSI's Statistics and Data Analysis pillar, joins the NHMRC Research Committee. This Committee advises on the distribution of funding and policies for the NHMRC grant program and on the scope and quality of health and medical research in Australia.
Membership of the NHMRC Principal Committees brings together expertise in biomedical science, clinical and public health, nursing, ethics, social sciences, health care training and the medical profession, as well as business and consumer perspectives, and expertise in the health needs of Aboriginal and Torres Strait Islander people and of people with disability. The Principal Committees support the NHMRC Council and provide expert advice reflecting a wide range of perspectives to the Chief Executive Officer, Professor Anne Kelso AO.
Media contact
Sian Conway Lamb, Marketing and Communications Officer
Australian Centre for Health Services Innovation
sian.conwaylamb@qut.edu.au
(+61) 7 3138 6087