Researcher Spotlight: Sundresan Naicker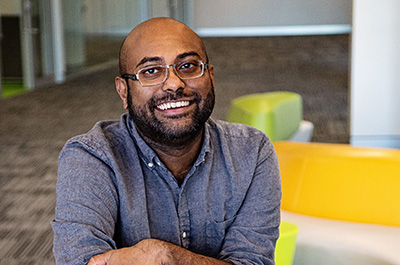 Q&A with Dr Sundresan Naicker, AusHSI Research Fellow – Implementation Science
Q: What expertise do you bring to AusHSI and what has been a highlight of your career so far?
A: I'm a behavioral scientist by background with further training in clinical epidemiology. My background has enabled me to combine population level approaches with local and individual level insights to health system innovation in a contextually appropriate and scalable manner. My research combines implementation science and digital health to improve how health systems function. Highlights have included my work positively impacting harm minimisation policy, the implementation of cancer screening strategies and health system reform.
Q: What does health services innovation mean to you?
A: To me it means engaging in ongoing health system improvement. This helps ensure all people have access to the highest quality, evidence-based healthcare, as equitably, efficiently, and sustainably as possible. Health system improvement is not without its challenges but, in my opinion, is the driving force of our work and the purpose of health services innovation.
Q: What inspires you most in your research?
A: Being able to actively engage in system improvement is an immense privilege and I am inspired by working with others and learning from other perspectives. My work enables me to combine the best practices of the scientific method with humanist values and is only as effective as the people around me, the relationships forged, and the perspectives shared.
Q: Why is health services research important?
A: Health systems are complex structures with many components and factors at play. Providing high-quality healthcare that is sustainable and equitable requires planning and effective research translation to disseminate innovation and best-practice interventions. Health services research plays a vital role in helping to achieve this goal.
Q: What do you see as the main challenges facing Australia's health system?
A: Australia shares many of the same global challenges facing health systems across the world, coupled with unique factors stemming from the structure of our population and geopolitical context. A current challenge is an ageing population coupled with healthcare workforce shortages and rising health care costs. Current health disparities may deepen if these issues are not adequately addressed.