The why, what and how of bronchiectasis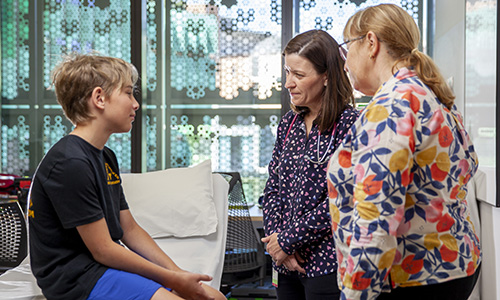 Why does our respiratory research group focus much of our attention on bronchiectasis?
Bronchiectasis is a chronic lung disease characterised by persistent or recurrent wet cough and airway inflammation and infection. The airways in people with bronchiectasis are damaged and stretched, becoming dilated. Bronchiectasis has a substantial impact on morbidity and mortality worldwide and at a great cost to the healthcare system.
Excitingly, it has now been shown that, if the condition is picked up early in children, appropriate management can reverse the radiological airway damage in some patients. As a result, it is crucial that children are diagnosed early and receive the best medical care.
Our research group is investigating the best medical care for children with bronchiectasis. We focus strongly on clinical trials that are immediately translatable into practice and that can make an immediate difference to clinical care.
What is the burden of living with bronchiectasis?
We surveyed the parents of 152 children who have bronchiectasis at the Queensland Children's Hospital and found that these children have an impaired quality of life and a high disease burden. Parents expressed that their biggest concerns were the long-term health outcomes for their child, declining health and the cough itself. We have seen these concerns escalate even more in recent years following the arrival of COVID-19 and increased requests for people to stay home when coughing, which are very frustrating for someone who coughs every day.
Children with bronchiectasis regularly have acute respiratory flare-ups of their cough. They are required to take daily antibiotics and undertake time-consuming chest physiotherapy to clear the mucous and infection on their lungs. This usually starts as outpatient treatment, but can progress to a two-week inpatient hospital stay with IV antibiotics. This has a huge impact on schooling, free time and work commitments for parents.
How does our research address bronchiectasis?
We are currently undertaking a number of studies that investigate bronchiectasis. Our research has focused on optimal management of respiratory flare-ups in childhood bronchiectasis, including the first trials on the effectiveness of oral antibiotics for flare-ups. Flare-ups are one of the main concerns of parents of children with bronchiectasis, as they impact on the quality of life of their child and indeed of the whole family. While flare-ups are associated with lung function decline, we also know that optimal management can reverse the lung damage of bronchiectasis in children.
Our new studies look at the role of novel mucolytics, which are drugs that thin the airway sputum and make it easier to clear, as well as the use of a bronchiectasis-specific action management plan for children that may prevent flare-ups or reduce doctor visits.
We are also exploring the prevention of bronchiectasis through the appropriate management of chronic wet cough. Our new study will look at the use of a prophylactic antibiotic in children with chronic wet cough, aiming to prevent progression of the airway inflammation and infection to airway damage and bronchiectasis.