International award for pioneer of transformative burn care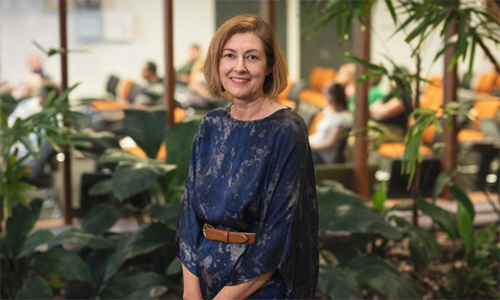 Dr Zephanie Tyack, a senior research fellow in implementation science at AusHSI, has received a prestigious award from the American Burn Association and delivered a plenary address to the Association at the 2023 annual scientific meeting in Dallas, Texas.
Her work has been recognised with the Everett Idris Evans Memorial Lecture Award, established in the 1960s to promote and support burn-related research, education and prevention and given to a researcher from outside the United States who has made a substantial contribution to science.
Dr Tyack is a registered occupational therapist who has worked clinically in burn care for 15 years and an implementation scientist who works to translate research evidence into burn care practice.
She is the first implementation scientist and allied health professional of 41 recipients to receive this award and the fourth female winner. To date, only three other Australians, all surgeons, have received the award: Professor Murray Clarke, Emeritus Professor Stuart Pegg and 'Australian Living Treasure' and 2005 Australian of the Year Professor Fiona Wood.
Her outstanding burns research has focussed on working with families and health professionals to understand outcomes that matter most to them and translate burns research into practice.
She has developed and implemented new models of care by understanding the whole system of burn care using the stories of people with burns and the teams who treat them, alongside numbers-driven research.
Dr Tyack said in her lecture that the stories of patients, staff and families who care for them had transformative power and a strong role in burn recovery.
"They can motivate people and teams, drive change, make numbers-driven data authentic, and rethink science as a tool to meet grand challenges," Dr Tyack said.
"Using stories, burn care can evolve as a deep learning system building on the strong foundation of multidisciplinary burn teams working together to advance burn care."
Dr Tyack's lecture outlined the research she and her Australian and international teams are doing in three areas: scar rehabilitation and surgical management; outcome measurement; and trauma care including trauma-informed care of staff and patients.
She is a developer and management committee member of a Burn Rehabilitation Course that has trained more than 200 health professionals and insurers in Australia and New Zealand and has served on the Australia New Zealand Burn Association board.
Dr Tyack is also involved in ongoing implementation science research to develop and translate new models of care into practice, with several large national grants in this area.
Media contacts
Australian Centre for Health Services Innovation: Sian Conway Lamb, 07 3138 6087, sian.conwaylamb@qut.edu.au
QUT: Niki Widdowson, 07 3138 2999 or n.widdowson@qut.edu.au
QUT: After hours: 0407 585 901 or media@qut.edu.au