12th Health Services Research Conference (HSRAANZ)

By Ruth Tulleners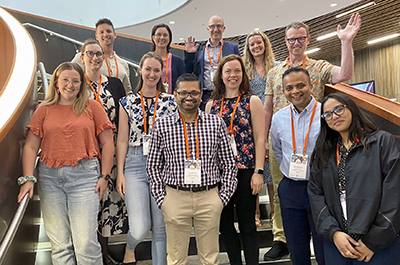 Hosted by the Health Services Research Association Au.NZ (HSRAANZ), the 12th Health Services Research Conference was held from Wednesday 30 November to Friday 2 December 2022 at the University of Sydney. Supporting the use of research to improve health services and systems, this year HSRAANZ invited speakers and delegates to delve into the inter-related themes of resilience, innovation and value, and the role of health services research in embedding these principles into our health systems.
The conference brought together a variety of disciplines including medicine, allied health, nursing, health policy, health economics, public health, health promotion, epidemiology, informatics and sociology to share how research can help build and maintain resilience, innovation and value within health systems.
AusHSI academics, staff and students had a strong presence at this year's conference –
scroll down to see presentation highlights from the AusHSI Research Team.
Awards
The HSRAANZ's awards and prizes program runs annually and recognises individuals, groups or institutions who have made significant contributions to the fields of health services research and health policy in Australia and New Zealand. This year, two AusHSI researchers received awards in the category of Distinguished Investigator: A/Prof Sanjeewa Kularatna received the Mid-Career award, and Prof Adrian Barnett the Lifetime Achievement award, in recognition of the significant and lasting contribution they have made to the field of health services and health policy research through scholarship and teaching, advancement of science and methods, translation and leadership.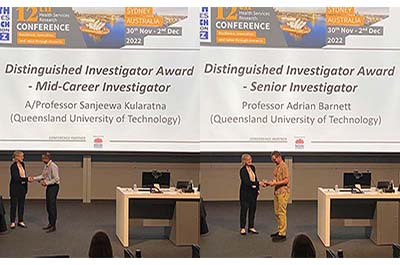 ECR 3 Minute Thesis Competition
PhD students Thomasina Donovan and Shayma Mohammed Selim both competed in the 3 Minute Thesis Competition, tying for first place in the People's Choice category.
In Thomasina's PhD, she aims to marry the fields of implementation science and health economics to develop an implementation costing tool. Only a few methods exist to cost the activities associated with implementation, and nothing is specific to digital health. Digital health technology adds to the complexity of implementation which is already messy and difficult within complex health systems. The implementation costing tool hopes to support digital health implementation from planning, policy, research, and evaluation.
Shayma's research project looks at ways in which digital health systems can assist in the reduction of non-attendance at scheduled outpatient healthcare appointments. The project aims to provide insights into the impact of non-attendance, consumer preferences for interventions that may be used to reduce the impact of non-attendance, and the cost-effectiveness of these interventions.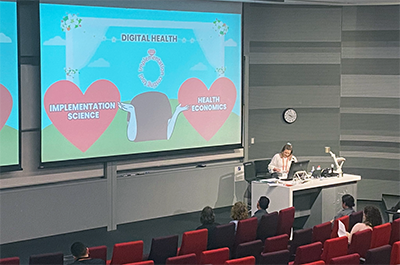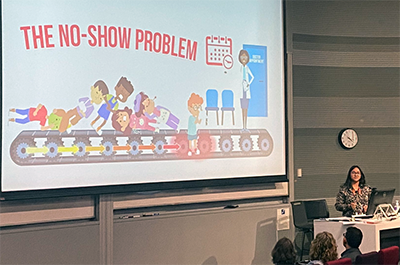 Oral Presentations
Dr Hannah Carter spoke about Economic evaluations of telehealth programs: why perspective matters. Hannah discussed the various perspectives that could be taken when conducting an economic evaluation in an activity-based funding environment. Hannah also shared her experience with evaluating the cost-effectiveness of a telehealth model and the subsequent lessons learnt.
PhD Scholar and Research Fellow Robin Blythe presented MultiCriteria Decision Analysis: Can we use it to evaluate integrated care? Integrated care is often challenging to evaluate, due to the long timeframes required for the health benefits of addressing systemic barriers to become apparent. Robin discussed the use of multi-criteria decision analysis as a useful tool in these circumstances, using the evaluation of 23 integrated care pilot programs across Queensland.
In Friday's plenary session Innovations in digital solutions for high-value care, Professor Steven McPhail focused on the topic of value in healthcare innovation. Steve's talk in this session brought together different conceptualisations of value and digital health innovation in real-world complex adaptive healthcare settings. It highlighted the importance of considering the role of actors with potentially competing perspectives of value and incentives across subsystems. He concluded by illustrating the importance of never losing sight of the irreplaceable qualities of humans, especially as we bring new digital innovations to life in complex healthcare settings.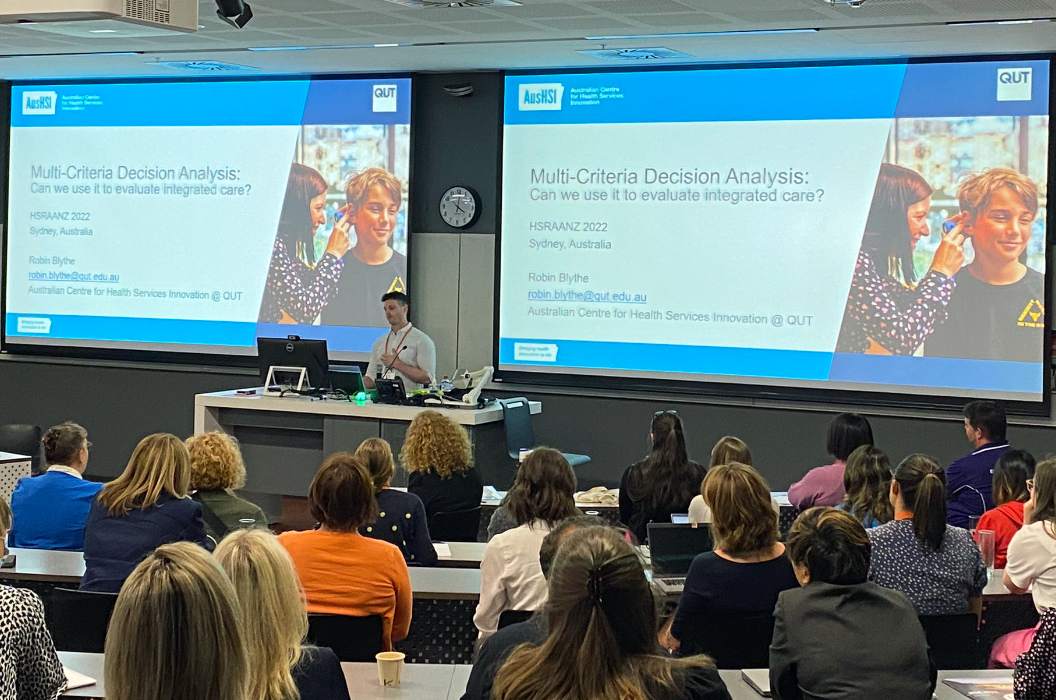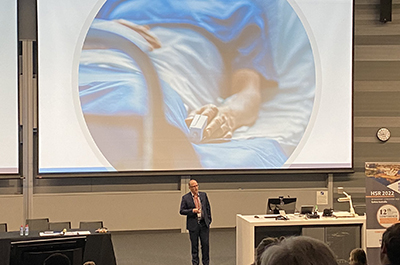 Symposia
Victoria McCreanor and Jacelle Warren presented the symposium Reducing the trauma involved in injury data linkage analysis: tips for effectively using linked administrative data to evaluate and improve health services. This symposium brought together the collaborative work of AusHSI, the Jamieson Trauma Institute and the Queensland Road Safety Data Bureau and focused on using linked administrative data to examine the burden of injuries and trauma on individuals, the healthcare system and beyond.
Presentations by Dr Victoria McCreanor, Ms Jacelle Warren, Dr Shahera Banu and Mr Shannon Dias showcased methods for improving understanding of the journeys of patients from injury event to rehabilitation and recovery. This demonstrated the value of linking data beyond the healthcare system, for estimating the true effect an injury has on a person's long-term outcomes and health service use.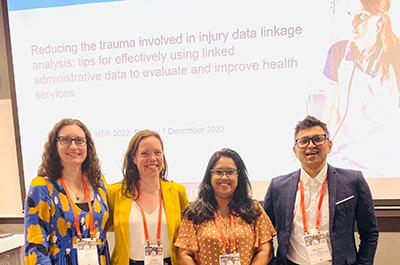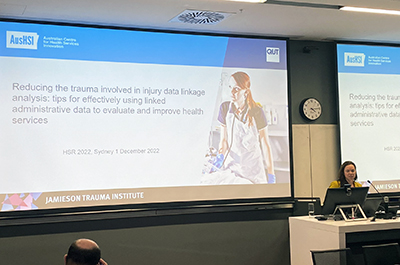 Posters
In addition to the range of oral presentations delivered by AusHSI academics and students, a number of posters were available for viewing and discussion throughout the conference.
Research coordinators Ruth Tulleners and Carla Shield shared their poster titled Ethics is not a dirty word: Recognising the value in the ethics and governance processes in health services research, where they outlined the key factors to maximise value and minimise waste when preparing research ethics and governance applications.
A/Prof Sanjeewa Kularatna's poster Australian utility value set for the MacNew-7D described the development of a heart disease-specific preference-based measure MacNew-7D making the Australian utility value set available. This was a national and international collaboration with many health economics experts in this specific area of research.
Digital health solutions for improving outpatient care utilisation, presented by Shayma Mohammed Selim, presents results of a scoping review that has provided insight into digital health solutions used for reducing the impact of non-attendance. The findings highlight that although reminder systems were the most commonly reported solution, there is emerging evidence to support other digital solutions (telehealth, booking systems, and prediction models) that have the potential to reduce the impact of non-attendance across outpatient healthcare settings.
Dr Sameera Senanayake's poster, titled Development and validation of a risk index to predict kidney graft survival: the Kidney Transplant Risk Index, reports the results of a study that used statistical and machine learning predictive models, using a large national dataset from Australia, to predict graft failure following kidney transplant.
Dr Qing Xia also presented her poster Economic impact of bariatric surgery in Australia: A longitudinal data linkage study of adults aged 45 years and older, which she completed in collaboration with her colleagues at the University of Tasmania and AusHSI's Dr Hannah Carter.