AusHSI Cardiac Month

By Megan Campbell
Recent decades have seen substantial improvements for people with cardiovascular disease, but they still account for a quarter of all deaths and cost the Australian economy upwards of $5B every year. Continuing to deliver those improvements that we have seen in recent years with scarce health resources is a constant challenge. That's why health services research is so important.
August 2022 was Cardiac Month at AusHSI, highlighting the current, past and future work of our Cardiac Health Services group, who are focused on developing new knowledge to drive implementation of high value cardiovascular health services.
Led by Prof Will Parsonage, AusHSI Clinical Director and Senior Staff Cardiologist at the Royal Brisbane and Women's Hospital and St Vincent's, the AusHSI Cardiac Program is working to help health services improve the healthcare provided to cardiology patients. Read a recent profile on Prof Parsonage by the Deeble Institute for Health Policy Research.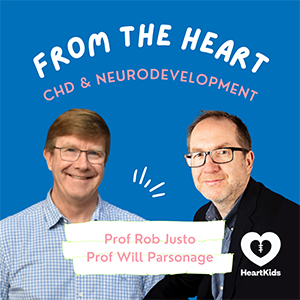 Podcasts
Listen to the HeartKids podcast From the Heart to hear CHD LIFE+ researchers A/Prof Rob Justo and Prof Will Parsonage discuss the connection between congenital heart disease (CHD) and neurodevelopment in children with presenter Sam Stolberg, who himself lives with CHD.
Listen to the latest MTPConnect podcast to hear AusHSI Operations Director, Megan Campbell, discuss AusHSI's ongoing research projects, involvement in the Targeted Translation Research Accelerator (TTRA) program and highlights of AusHSI Cardiac Month with MTPConnect's Caroline Duell and Dr Mana Liao.
Cardiac Conferences
The AusHSI Cardiac Health Services group recently participated in the CSANZ and ACRA 2022 Annual Scientific Meetings. The programs encouraged learning and fellowship, including a unique opportunity at CSANZ to meet, in person, with several of the partners in our CHD LIFE+ collaboration. View our selection of research abstract posters to find out more about our research projects.
Neurodevelopment in Children with Congenital Heart Disease
AusHSI's research partnerships are vital to the success of CHD LIFE+, a research project established to develop new models of long-term neurodevelopmental care for children with congenital and childhood heart disease (CHD). On the blog, read an interview with Holly Williams from HeartKids, the CHD LIFE+ study's key consumer partner. Based at Children's Health Queensland, CHD LIFE Clinical Nurse Consultant Karen Eagleson writes about the CHD LIFE journey and Dr Ben Auld shares how he is working to improve access to cardiac care for geographically remote patients. AusHSI PhD Scholar Pakhi Sharma's research investigates Consumer Preferences for Neurodevelopmental Follow-Up Care for Children with Congenital Heart Disease.
Indigenous Cardiac Health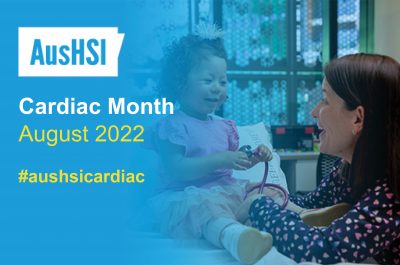 Published in the Medical Journal of Australia, AusHSI researchers Prof Jaimi Greenslade and Prof Will Parsonage have led a study with Cairns Hospital and the Royal Brisbane and Women's Hospital to identify a way of more quickly determining the risk of a heart attack for Indigenous patients. Read the latest issue of The Health Advocate featuring an article by Prof Will Parsonage on his ongoing collaborative research on chest pain.
Atrial Fibrillation
Learn how AusHSI is engaging with stakeholders to co-design a framework for integrated care to manage atrial fibrillation in Australia. Higher Degree Research students Ureni Halahakone and Sumudu Hewage, who was recently awarded a QCVRN scholarship, share insights into their work investigating the cost-effectiveness of screening for atrial fibrillation, and ways to improve access to integrated care in Australia.
Cardiac Rehabilitation
AusHSI is working to optimise cardiac rehabilitation referral, enrolment, and completion in Australia through our Engage-CR research project, which was established to understand and improve variation and gaps in current service provision. We are exploring the implementation of a more cost-effective combined centre-based and tele-based rehabilitation model of care.

Coronary Artery Disease
Coronary heart disease is still the leading cause of death in Australia and can be costly to treat. There are three main treatment options: medical therapy, percutaneous coronary intervention and coronary artery bypass graft surgery, with different levels of invasiveness, risk and cost. Dr Victoria McCreanor's PhD thesis evaluates the cost-effectiveness of all three treatments.
The first of its kind, the controversial ORBITA Study investigated the efficacy of percutaneous coronary intervention (PCI) using stents for symptom relief of chest pain. Following a small difference in health utility reported between the PCI and control groups, Dr McCreanor and the research team undertook a cost-effectiveness analysis using the trial data.
Sign up to the AusHSI eNews or follow us on Twitter and LinkedIn to find out more.