CSANZ and ACRA 2022 Annual Scientific Meetings

By Professor Will Parsonage and Dr Bridget Abell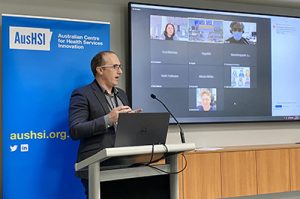 The 70th Annual Scientific Meeting of the Cardiac Society of Australia and New Zealand (CSANZ) took place from 11-14 August and was held at the Gold Coast Convention and Exhibition Centre. The 2022 program theme Heart Health For All highlighted the need to achieve heart health equity in areas such as ethnicity, gender, socioeconomics and geographic accessibility. The program encouraged learning and fellowship for all who attended, including a unique opportunity to meet, in person, with several of the partners in our CHD LIFE+ collaboration.
Friday's program featured cardiac research abstract poster viewings and mini-oral presentations, with the strongest showing yet at this meeting from the AusHSI Cardiac Health Services Group. Scroll down to see a selection of AusHSI research papers presented.
Prior to the CSANZ meeting, AusHSI research fellow Dr Bridget Abell also attended and co-chaired the 31st Annual Scientific Meeting (ASM) of the Australian Cardiovascular Health and Rehabilitation Association (ACRA), which ran from 8-10 August at Sea World Resort and Conference Centre, also on the Gold Coast. The ACRA ASM is the premier Australian conference for all health professionals interested in secondary prevention, cardiac rehabilitation, heart failure, and chronic disease management. By all accounts the conference was a resounding success, with national examples of clinical excellence and implementation science in cardiac rehabilitation presented. Among these was work by Dr Abell and the AusHSI ENGAGE-CR project team, who had a poster highlighting the current barriers, enablers and engagement strategies being used in the Australian cardiac rehabilitation setting.
Characteristics of models of care supporting neurodevelopmental follow-up of children with congenital heart disease
Bridget Abell
We performed a scoping review which identified neurodevelopmental follow-up programs for children with congenital heart disease and described their characteristics and contextual factors impacting implementation. These findings will be combined with qualitative interview data to inform the development of a taxonomy of neurodevelopmental models of care for children with CHD, which can be used to support simulation modelling of service delivery and subsequent implementation planning at local and national levels. View Poster.
Economic justification for neurodevelopmental support for children with congenital heart disease
Steven McPhail
Neurodevelopmental delay or disability is a significant concern in the care of children across a range of paediatric specialties, including children with congenital or childhood heart conditions. The aim of this study was to conduct a scoping review of current economic modelling regarding care for children with, or being monitored for, common neurodevelopmental disorders. View Poster.
Australian utility value set for the MacNew-7D
Sanjeewa Kularatna
AusHSI researchers have developed a heart disease-specific preference-based measure MacNew-7D making the Australian utility value set available. This was a national and international collaboration with many health economics experts in this specific area of research. View Poster.
Mapping three commonly used heart disease-related quality of life instruments to MacNew 7D
Sameera Senanayake
Kansas City Cardiomyopathy, Seattle Angina and Minnesota Living with Heart Failure questionnaires can be mapped onto MacNew 7D utilities with good predictive accuracy.  The mapping algorithms can effectively estimate the health utility values for economic evaluations related to heart disease. View Poster.
Cost-effectiveness of Stroke Prevention Strategies in Atrial Fibrillation: a Systematic Review and Meta-analysis
Sumudu Hewage
We performed a systematic review and a meta-analysis to evaluate current evidence on the cost-effectiveness of strategies for stroke prevention in atrial fibrillation. Our meta-analysis indicate that on average, the left atrial appendage closure procedure could be cost-effective compared to warfarin, but not against novel oral anticoagulants in preventing stroke among eligible populations of patients with atrial fibrillation. Learn more.
'What's Hot' in Clinical Cardiology/Surgery
Will Parsonage
A summation of the leading topics covered in the clinical cardiology and cardiac surgery stream of the meeting.